Post-Doctoral Researcher since Fall 2019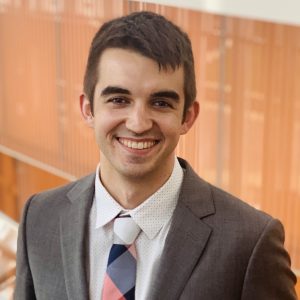 Department: Materials Science & Engineering
Contact: jpressly@seas.upenn.edu
Hometown: Myersville, MD
Previous education:
BS and MS in Materials Science & Engineering, Rensselaer Polytechnic Institute, 2014
PhD in Materials Science & Engineering, University of Pennsylvania, 2019
As a graduate student, James studied the behavior of nanoconfined polymers, focusing on how confinement affects polymer chain conformation and diffusivity. Through this work he became fluent in both experimental and computational modeling research techniques. Currently, James is studying the effect of nanoparticle dispersion and polymer-nanoparticle interaction strength on the long-term creep properties of polymer nanocomposites. Over his research career James has become proficient in a variety of experimental techniques, including ion beam analysis and small angle neutron scattering, and programming languages, including Python, C/C++, and the molecular dynamics simulation program LAMMPS.
Outside of work James enjoys scuba diving, traveling, and cooking.
Learn more about James at jamespressly.com, connect with him on LinkedIn, and visit his Google scholar page.