Ion Containing Polymers
New morphologies and properties in precise acid- and ion-containing polyethylenes
Structural characterization of acid- and ion-containing polymers
Polymer Nanocomposites
Center-of-mass polymer and nanoparticle diffusion in polymer nanocomposites
Combining experiments and simulations to understand electrical conductivity in polymer nanocomposites and transparent conductors
Correlating nanotube network structures and flammability in polymer nanocomposites
Novel fabrication methods in carbon nanotube / polymer nanocomposites
Ion Containing Polymers
---
New morphologies and properties in precise acid- and ion-containing polyethylenes
Winey's group has conducted seminal work in acid- and ion-containing polymers connecting their mesoscale morphology observed due to acid or ionic aggregation with their molecular structure.  This work exploited the unprecendented structural uniformity of linear polyethylene-based ionomers made possible by acyclic diene metathesis (pioneered by Ken Wagener, Univ. Florida) in which pendant groups are placed precisely along the backbone.  Winey's group has identified a variety of new morphologies including ionic aggregates packed on cubic lattices and semicrystalline polymers with acid or ionic groups assembled into layers.  Their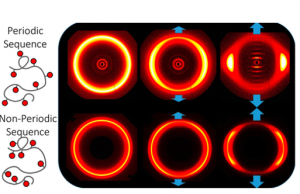 experimental work has been effectively complemented by coarse-grained and atomistic molecular dynamics simulations (by Amalie Frishknecht and Mark Stevens, both of Sandia National Laboratories) which probed the nanoscale morphologies at high temperatures.  Good agreement has been found between the simulations and X-ray scattering that indicate the presence of percolated ionic aggregates.  These results are promising as a means for facile ion transport.  Under tensile deformation the structural evolution of these precise polyethylene ionomers provide valuable insights as to how "sticky" polymers respond to stress, particularly the ability of an amorphous polymer to strain harden.
Selected Recent Publications:
---
Structural characterization of acid- and ion-containing polymers
Despite the commercial success of ionomer, their nanoscale morphology has long been a topic of dispute.  Thus, Winey's group capitalized on the atomic number contrast in high-angle annular dark field scanning transmission electron microscopy (HAADF STEM) to directly image ionic aggregates in ionomers to determine their spatial uniformity, size, shape, and number density.  For random distributions of nominally spherical aggregates, Winey's group quantitatively reconciled X-ray scattering results and HAADF-STEM in partially neutralized amorphous ionomers.  Equally important, their HAADF STEM studies revealed considerable diversity in the shape/size of ionic aggregates, particularly when ionomers are prepared by precipitation.  Partly due to Winey's pioneering work, HAADF STEM is now used widely in polymer science, particularly with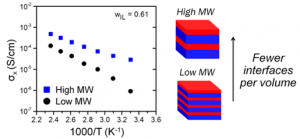 polymer nanocomposites.  Furthermore, Winey has effectively combined X-ray scattering with a variety of other analytical tools to provide new and detailed insights on the structure and dynamics of acid- and ion-containing polymers.  Highlights include (i) establishing that both un-neutralized and neutralized acid groups co-exist in the ionic aggregates, (ii) demonstrating that ionic aggregation can be thermally induced in a poly(ethylene oxide)-based ionomer, and (iii) demonstrating that microphase separation is common when acid or ionic groups are attached to polymer chains.  In 2017 Winey has published a review article that highlights the variety and importance of nanoscale acid- and ion-containing aggregates on macroscopic properties.
Selected Recent Publications:
Isolating the effect of molecular weight on ion transport of non-ionic diblock copolymers / ionic liquid mixtures. (2016)
Polymer Nanocomposites
---
Center-of-mass polymer and nanoparticle diffusion in polymer nanocomposites
Polymer diffusion in the presence of nanoparticles is fundamentally distinct from polymer reptation in polymer melts, because the nanoparticles are comparable in size to the polymer chains and have the potential to perturb entanglements.  Winey has collaborated with Russ Composto (University Pennsylvania) to study polymer diffusion in nanocomposites, as a means to understanding polymer dynamics and viscoelastic behavior in nano-hybrid materials.  For nanocomposites involving spherical nanoparticles, the polymer diffusivity decreases monotonically and isothermal data for a variety of polymer molecular weights display universal behavior when the normalized diffusivity is considered as a function of the normalized distance between nanoparticles (distance normalized by the polymer radius of gyration).  In contrast, for nanocomposites with anisotropic nanooparticles, polymer diffusivity exhibit a minimums with increasing nanoparticle concentration and does not correlate with the monotonic increase in polymer conformation (radius of gyration) recently reported by Winey's group.  More recently, Winey has turned her attention to polymer diffusion in nanoconfinement and found that polymer melt diffusivity increases with decreasing nanopore diameter.  These experimental results are in qualitative agreement with molecular dynamics simulations and demonstrate that rigid confinement can reduce polymer entanglement, thereby increasing diffusivity.
Selected Recent Publications:
---
Combining experiments and simulations to understand electrical conductivity in polymer nanocomposites and transparent conductors
Carbon nanotubes are particularly well-suited to modify the electrical properties of polymers. Winey's group experimentally investigated the impact on electrical conductivity of nanotube dispersion and nanotube alignment as measured by X-ray scattering and quantified by the orientational order parameter.  Interestingly, the highest electrical conductivity was found in composites with slight nanotube alignment.  To explore this, Winey's group adapted a simulation program designed to probe nanotube aggregation to compute the electrical conductivity of polymer nanotube composites, rather than just find the percolation threshold.  These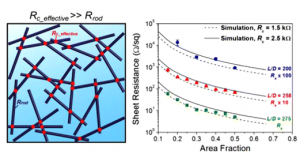 simulations, as further validated by experiments in polymer / silver nanowire composites, have explored the effects of nanoparticle alignment and size dispersity.  Moreover, Winey's group has developed an analytical model for the percolation threshold for nanorods of arbitrary size dispersity and orientation for finite sized nanorods in 3D and 2D.  The extension to 2D has proven valuable in the field of transparent conductors comprised of metal nanowires; specifically, the topology of the nanowire network (nanowire length, aspect ratio, orientation and concentration) can be separated from the average contact resistance.  In collaboration with Ben Wiley (Duke University), Winey's group has used this approach to evaluate post-processing methods to improved contact resistance between nanowires.
Selected Recent Publications:
---
Correlating nanotube network structures and flammability in polymer nanocomposites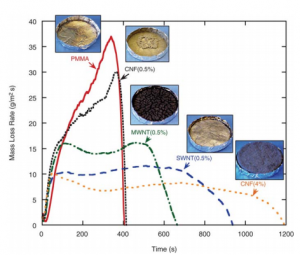 The covalent bonds in carbon nanotubes provide outstanding phonon transport giving isolated single-walled carbon nanotubes thermal conductivities comparable to diamond, which lead to investigations of thermal properties of carbon nanotubes / polymer composites.  In collaboration with Takashi Kashiwagi (NIST), Winey established the importance of forming a physically connected network of carbon nanotubes to significantly reduce the flammability of such nanocomposites. Winey's group demonstrated two methods for evaluating nanotube networks in this context, namely solid-like behavior in linear viscoelastic measurements and a substantial increase in electrical conductivity.  The group observed that when the nanotube network is percolated there is a substantial increase in flame retardancy.  Moreover, it was shown that the nanotube network provides a thermal barrier between the nanocomposite and the heat source (flame) and distributes heat laterally in the nanocomposites.  These ideas were tested by using a variety of nanotubes (aspect ratio) and processing conditions (quality of dispersion, nanotube orientation) to control the formation of a percolated nanotube network.
Selected Recent Publications:
Improving electrical conductivity and thermal properties of polymers by the addition of carbon nanotubes as fillers. (2007)
---
Novel fabrication methods in carbon nanotube / polymer nanocomposites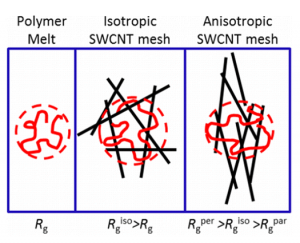 Shortly after carbon nanotubes were identified as a new carbon allotrope, their value as additives to polymers was imagined.  Starting 2000, Winey's group developed a variety of processing methods for preparing carbon nanotube / polymer composites.  Outstanding dispersion was produced by a coagulation method that employs a kinetic rather than thermodynamic approach.  Winey's group controlled nanotube alignment by melt fiber spinning and repeatedly applied this processing method to explore the importance of nanotube orientation in, for example, templating polymer crystallization, electrical conductivity, and, most recently, chain conformation.  Additional fabrication methods developed by Winey's group include in situ nylon synthesis for improved mechanical properties and a novel protocol to produce percolated structures without good dispersion.  In 2006, Moniruzzaman (a postdoc with Winey) and Winey published a highly cited perspective entitled, "Polymer nanocomposites containing carbon nanotubes" in Macromolecules.
Selected Recent Publications: