February 2018
02/10/2018- Last week the Winey and Composto labs teamed up to teach local students about polymers at Philly Materials Day.
The material focused on shape-memory polymers, and included several demonstrations.
January 2018
01/20/2018-Take a look at our recent publications in Polymer and Macromolecules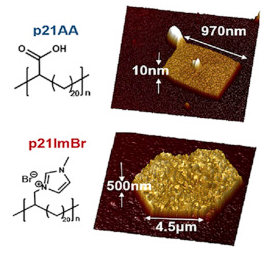 "Solution-grown crystals of precise acid- and ion-containing polyethylenes" L. Yan, K. C. Bustillo, O. Panova, A. M. Minor, K. I. Winey*, Polymer, 135, 111-119, 2018.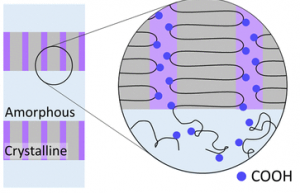 "Transverse Orientation of Acid Layers in the Crystallites of a Precise Polymer" E. B. Trigg, L. R. Middleton, D. E. Moed,  K. I. Winey*, Macromolecules, 50, 8988-8995, 2017.
01/10/2018-Congratulation to Dr. Ted Trigg for successfully defending his thesis last month. We will miss you here at Penn, but good luck with your post doctoral research at Ohio State University!
Ted's thesis was titled "Controlled Chain Folding in Precise Polyethylenes: Designing Lamellar Structures for Ion Transport"
November 2017
11/7/2017-Check out Dr. Winey's perspective in Science
"Designing tougher elastomers with ionomers" K. I. Winey*, Science, 358, 449-450, 2017.
October 2017
10/22/2017- On October 12 and 13, Dr. Winey and the MSE Department hosted Grace Hopper Distinguished Lecturer, Dr. Amalie Frischknecht of Sandia National Labs.
Dr. Frischknecht gave a seminar titled "Pattern Formation and Particle Assembly with Mixed Polymer Brushes." She also met with faculty and students throughout the department during her visit. Dr. Frischknecht is a Principal Member of Technical Staff at the Center for Integrated Nanotechnologies at Sandia National Laboratories. To learn more about the Grace Hopper Lecture series in the School of Engineering and Applied Science, click here.
10/09/2017- Last week we teamed up with the Composto Lab to teach local high school students about polymers during Nanoday@Penn
Some of our Ph.D. students and undergraduates held demonstrations to teach students about polymer chemistry, as well as shape memory polymers.
September 2017
09/24/2017- Great job Ph.D. Candidate James Pressly for presenting at the CBE Graduate Student Symposium last week!
"Polymer Behavior Under Rigid Symmetric Confinement"  click to see poster
09/05/2017- Ph.D. Candidate Ted Trigg will be giving the Penn MSE department seminar this week!
"Controlled Chain Folding in Precise Polyethylenes"
Ted Trigg
Ph.D. Candidate, Department of Materials Science and Engineering, University of Pennsylvania
Thursday, September 07, 2017
10:45 to 11:45am
LRSM Auditorium
August 2017
08/28/2017-Welcome New Students!
Welcome back to all of the returning students, and all of the new students to start the semester off at Penn!
08/21/2017-Check out our newest publication in ACS Macro Letters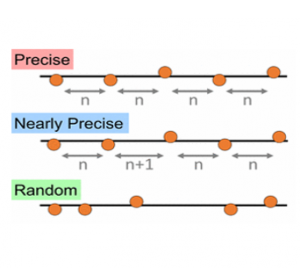 "High morphological order in a nearly precise acid-containing polymer and ionomer" E. B. Trigg, B. J. Tiegs, G. W. Coates, K. I. Winey,* ACS Macro Letters, 6, 947-951, 2017.
08/03/2017-Congratulations to Nicholas Han for presenting his summer research at the Rachleff Symposium!

Nicholas is a Junior studying Materials Science & Engineering here at Penn, and has been a part of the Winey Group since the summer of 2016. His research this past summer focused on materials characterization using broadband dielectric spectroscopy (BDS).